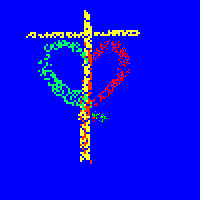 Are You Sure of Your Salvation?
Do you KNOW where you will spend Eternity?
Here's how you can BE SURE:

Admit you are a sinner "For all have sinned and come short of the glory of God" -- Romans 3:23
Believe on Jesus as your Saviour "For God so loved the world, that he gave his only begotten Son, that whosoever believeth in him should not perish, but have everlasting life." -- John 3:16
Obey God's commands, for " Not every one that saith unto me, Lord, Lord, shall enter into the kingdom of heaven; but he that doeth the will of my Father which is in heaven." -- Mat. 7:21
Trust His promise: "I am come that they might have life, and that they might have [it] more abundantly.
11 I am the good shepherd: the good shepherd giveth his life for the sheep."

"Herein is our love made perfect, that we may have boldness in the day of judgment: because as he is, so are we in this world.
18 There is no fear in love; but perfect love casteth out fear: because fear hath torment. He that feareth is not made perfect in love.
19 We love him, because he first loved us.
20 If a man say, I love God, and hateth his brother, he is a liar: for he that loveth not his brother whom he hath seen, how can he love God whom he hath not seen?
21 And this commandment have we from him, That he who loveth God love his brother also. ," -- 1 John 4:17-21

"Cast all your anxiety on Him, because He cares for you." - 1 Peter 5:7


E-mail us:
dhowie@wcl.on.ca


March 12, 1998
Copyright 1998 Doris E. Howie and Christian Country CONTACT