About the Artist:
Sandy Samples was a country music singer for many years before turning to Gospel music. She was born again on January 8th, 1983 in a small church in Sanford, Florida. I'll let this excerpt from Gospel Gleanings tell the rest of the story: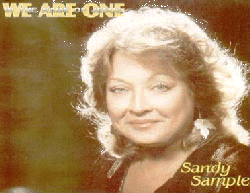 "Nearly two years to the day later, Sandy and the boys [in the band] were on their way to Gallup, New Mexico for a show. In her bedroom in the back of the bus, she began smelling smoke. By the time she could get to the front to tell her husband, the rear of the bus was blazing. There was barely enough time to stop the bus, get everyone off, yank their equipment out of the bins and stand in the snow and watch as their lives as they knew them came to an end."


When Sandy and the band reached their destination, the owner of the club handed them an advance cheque so they could buy some clothes!


Quoting again from Gospel Gleanings: Sandy's first instinct was,
If the Lord wants me off the road this bad, I'm going to finish up the engagements that are already booked, and head for home.
She said she was still in shock when they got to the club - had cried herself out and was trembling - when one of the truckers [who had stopped to help] walked up and put his hands around her face and said,
Now, Sandy, in order to have a new beginning, you have got to have an ending.
Sandy says she's wished many times since that she could see him and hug his neck - to let him know just how right he was."

It took Sandy five years to complete the We Are One album which was released in September, 1997, and the title cut has already hit #17 on the top 20 countdown in Gospel Voice magazine.

Sandy's musical ministry is entirely dependent on love offerings and the sales of her tapes and CDs.


---