Christian Country Gospel-Singing Contralto par excellence from the Lone Star State!!
Sandy Samples
will be in Ontario, Canada JULY 22nd to AUGUST 9th, 1998

DON'T MISS OUT ON THE LISTENING EXPERIENCE OF A LIFETIME!!

This soft-spoken lady from Texas has a powerful message you'll want to hear first-hand - and a voice you'll never forget! Thrill to songs ranging from
the haunting title tune, "We Are One (In the Eyes of Jesus)"

to the plaintive plea for Christ's return ("Your Old Stomping Ground"),

the madcap gaiety of Sandy's own composition, "The Devil's Not Afraid of a Dusty Bible,"

her deeply moving tribute to her mother ("Through the Eyes of Love") and

the whimsical "Could I Bring My Own Angel" or

the utterly devastating simplicity of "Driving Nails" ...

There's something to please every taste . . . and challenge every Christian to a deeper faith, a closer walk with our precious Lord.


National and ...
"Although Samples' business acumen is admirable, it is her deep contralto voice which is her greatest asset. With sincere emotion combined with her considerable vocal technique, Samples holds her audience's respect.
"Samples was a country music singer for 25 years before turning to Gospel music."
... The Smithville (Texas) Times, December 5, 1996
International Acclaim:
"I liked your songs Driving Nails. Am so thankful to God for this song. You have a great Country voice that knows for whom it is singing. I wish every country Music Star would know Jesus as their Saviour, and sing Country praises for Him. I am sure everywhere you are heard you will be a blessing. You were to me."
...Job Gathemia, d.j. on KBC, Kenya's national radio station, with an audience of 25 million people


About the Artist:
Sandy Samples was a country music singer for many years before turning to Gospel music. She was born again on January 8th, 1983 in a small church in Sanford, Florida. I'll let this excerpt from Gospel Gleanings tell the rest of the story: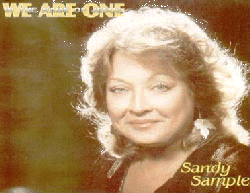 "Nearly two years to the day later, Sandy and the boys [in the band] were on their way to Gallup, New Mexico for a show. In her bedroom in the back of the bus, she began smelling smoke. By the time she could get to the front to tell her husband, the rear of the bus was blazing. There was barely enough time to stop the bus, get everyone off, yank their equipment out of the bins and stand in the snow and watch as their lives as they knew them came to an end."


When Sandy and the band reached their destination, the owner of the club handed them an advance cheque so they could buy some clothes!


Quoting again from Gospel Gleanings: Sandy's first instinct was,
If the Lord wants me off the road this bad, I'm going to finish up the engagements that are already booked, and head for home.
She said she was still in shock when they got to the club - had cried herself out and was trembling - when one of the truckers [who had stopped to help] walked up and put his hands around her face and said,
Now, Sandy, in order to have a new beginning, you have got to have an ending.
Sandy says she's wished many times since that she could see him and hug his neck - to let him know just how right he was."

It took Sandy five years to complete the We Are One album which was released in September, 1997, and the title cut has already hit #17 on the top 20 countdown in Gospel Voice magazine.

Sandy's musical ministry is entirely dependent on love offerings and the sales of her tapes and CDs.



To e-mail Sandy Samples, click here.

DATES AND BOOKINGS
St. Andrew's Presbyterian Church, Wingham - 8:00 p.m., Thursday, July 23, 1998 - benefit concert sponsored by the Wingham Branch, Canadian Cancer Society; proceeds to Patient Services of the Canadian Cancer Society

Harriston - July 25th and 26th - details to follow

Lucknow United Church, Lucknow - 10:00 a.m., Sunday, August 2, 1998 - combined service for Lucknow United, Lucknow Presbyterian and South Kinloss Presbyterian churches

SANDY SAMPLES
SANDY SAMPLES
P.O. Box 598
c/o The CARING Place
Somerville, TX 77879
Box 517
Telephone: 409-277-8738
Harriston, Ontario
Fax : 409-289-2726
519-338-3360
Houston: 281-591-0485
519-338-2824
E-mail: PVI Records
E-mail: Doris Howie

Use the form below to order WE ARE ONE (In the Name of Jesus> in CD or cassette format!
ORDER FORMS
"We Are One"
CANADIAN RESIDENTS
U.S. RESIDENTS
Residents of Canada, please use this form to order Sandy Samples' superlative Christian album, "We Are One (In the Name of Jesus)"
Residents of the U.S.A., please use this form to order Sandy Samples' superlative Christian album, "We Are One (In the Name of Jesus)"
Treat yourself to the listening experience of a lifetime:
"WE ARE ONE (In the Name of Jesus)"
by Christian evangelical contralto SANDY SAMPLES
DOWNLOAD a sample of We Are One and/or Drivin' Nails now. (Each .wav is approximately 1 meg. in size.) or LISTEN HERE to clips from We Are One or Drivin' Nails
HOW TO DOWNLOAD:
IN NETSCAPE: Hold down the shift key and click on the appropriate .wav name.
IN INTERNET EXPLORER: Right-click on the name of the .wav; choose "Save Target As ..." from the pop-up menu.

---
LE FastCounter
---
---

If you have trouble with this page, please e-mail dhowie@wcl.on.ca.
Copyright 1998 Doris E. Howie
Created April 18, 1998
Updated June 2, 1998